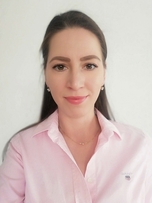 My passion for English language and British culture started at the bilingual grammar school when I was a teenager. During this time, I got the chance to visit the United Kingdom to work and live there for 3 months. Staying in a beautiful environment of West Midlands, talking to native speakers and feeling the unique British atmosphere deepened my love for English language significantly. When I look back, that was the first right move of my life.
After having completed the secondary education, luckily, I had a chance to continue in my university studies. As my interest in British culture had not been on the decline, I decided to study English language and literature at the university in Žilina where I acquired my bachelor's and master's degree. It was just this time at the university, where also lessons on English language methodology were included, when I realised that what made me truly happy was not only educating myself but sharing the gained knowledge with students, too. To have combined these two centres of my self-fulfilment in the profession of an English language teacher was my second right move.
I started teaching at a higher secondary school shortly after I had graduated. I liked my profession very much but I felt a strong desire to move forward and learn new aspects of teaching English. At that time, I started my studies at the university in Nitra. Studying for a doctorate and working a full-time job was not easy but I benefited from the studies a lot. I not only have used the methodology knowledge and scientific insight in my own teaching, but as I have worked with the university students doing their compulsory practice at our school, I have been able to provide them with a more accurate and tailor-made guidance. During 4 years of studying at this university, I have come across such inner strength, persistence, determination and enthusiasm, which I had never thought of.
As I have gone through this path, I can state that the study at this university provides students with highly educated and helpful teachers, endless amount of precious knowledge and a wide range of opportunities which finally put students at a higher level of their lives. The department of Language Pedagogy and Intercultural Studies at Constantine the Philosopher University in Nitra was my third right move.
Sincerely, I would recommend the study at this university to every education eager student or teacher, who can feel the love for English language and personal growth, because the life is about right moves…